Thanks for joining me @ Technology Skill Upgrade Self Learning School !!!
Sunil Babu K C
Cloud & DevOps Technology Specialist
https://www.projectmanagement.com/profile/sunilbabu
The journey of a thousand miles begins with one step 

I have just three things to teach: simplicity, patience, compassion. These three are your greatest treasures.

I believe everyone is entitled to learn. Knowledge should be shared and free. This is definitely the best way to change the world and make it a better place

The leader of genius must have the ability to make different opponents appear as if they belonged to one category.

Honesty is the first chapter in the book of wisdom.
Inception
I have 16+ years of  Hands-on IT experience working on AWS, Azure, IBM Cloud, Oracle Cloud, Google Cloud, SAP HANA Cloud, Informatica Clud, Cloud Foundry, OpenStack, and Alibaba Cloud.  
I have done my PMP, CSSLP, CCSP, CompTIA CySA, CISSP, CASP, CRISC, CCSP, CISA, CISO, Agile Scrum, ITIL, SixSigma, HIPPA
I have worked on the technologies Cloud Security, Blockchain, Watson, Data Science, AI, IoT.  Experience working on Middleware Technologies – WAS, Weblogic, Tomcat, Jboss, Apache, IIS. Achieved Badges from IBM on Blockchain, Watson, Data Science, Education Foundation Service, Design Thinking.  I Started my career as System Admin and in the career ladder I have Donned the role Technical Project Manager, Transition Manager, Due Diligence Manager, SaaS Operation Manager, Technical Consultant, Senior Specialist and Client Technical Specialist
I have the flair to work on new technologies and share my knowledge and experience.
Happy Learning !!!!!!!
Social Networking
https://www.linkedin.com/in/sunil-cloud/
https://www.facebook.com/sunilbhaikc
https://www.instagram.com/sunilbhaikc
https://en.wikipedia.org/wiki/User:Sunilkcbhai
https://www.youracclaim.com/user/lakeplacid
Legends To Admire
Mother Teresa needs no introduction. She is an inspirational personality who poured the unconditional love for the poor. The Noble Prize winner acclaimed globally for her incredible and heart-warming charitable services. We can call her the kindest heart in the world!
Born as a Roman Catholic, Mother Teresa always believed and preached that serving the people is the chief principle preached by Jesus Christ.
Her full-fledged services began and she was accompanied by many fellow nuns. The entire crew survived with little food and trivial income. She and her fellow nuns never hesitated to beg for funds as well for foods sometime.
Besides being a lovable and kind hearted woman, Mother Teresa who born as a Roman Catholic and respected the traditions of India never went behind conversion of faith in religion. All the people in her homes and under her care were provided appropriate religious and traditional rites.
The small initiation of Mother Teresa was sparked by her intuition and simple thought. Her Missionaries of Charity now spread across various parts of the world as a huge, strong and undying tree with service motive to serve the homeless people. She passed away in the year 2003. Her soul remains with her.
A beautiful saying by Mother Teresa!
Love cannot remain by itself — it has no meaning. Love has to be put into action, and that action is service.
Nick Vujicic was born in Melbourne, Australia, in 1982 to Dušanka and Borislav Vujičić, Serbian immigrants from Yugoslavia.
He was born with tetra-amelia without fully formed limbs. According to his autobiography, his mother refused to see him or hold him when the nurse held him in front of her, but she and her husband eventually accepted the condition and understood it as "God's plan for their son.
Vujicic thrived in his teenage and young adult years despite being bullied. After his mother showed him a newspaper article about a man dealing with a severe disability when he was seventeen, he started to give talks at his prayer group.
Vujicic graduated from Griffith University at the age of 21 with a Bachelor of Commerce degree, with a double major in accountancy and financial planning.
Fathers of Cloud: The Innovators That Made the Cloud of Today
Father of Artificial Intelligence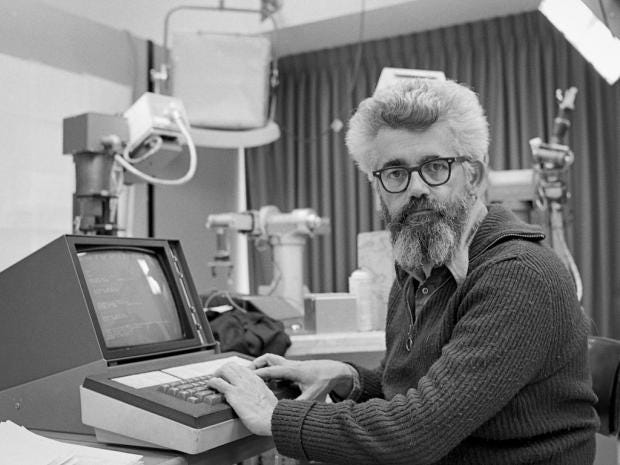 John McCarthy, an American computer scientist pioneer and inventor, was known as the father of Artificial Intelligence (AI) after playing a seminal role in defining the field devoted to the development of intelligent machines. The cognitive scientist coined the term in his 1955 proposal for the 1956 Dartmouth Conference, the first artificial intelligence conference. The objective was to explore ways to make a machine that could reason like a human, was capable of abstract thought, problem-solving and self-improvement. He believed that "every aspect of learning or any other feature of intelligence can in principle be so precisely described that a machine can be made to simulate it."
Described as "focused on the future," McCarthy was "always inventing, inventing, inventing," and in the 1960s he conceived the idea of computer time-sharing or networking, which allowed users to share data by linking to a central computer; it ultimately lowered the cost of using computers. This innovation was described as a significant contribution to the development of the internet, and a precursor of cloud computing – a method of storing data on a remote server accessible via the internet.