Thanks for joining me @ Technology Skill Upgrade Self Learning School !!!
– Sunil Babu K C
                                                            Cloud Technology Specialist
The journey of a thousand miles begins with one step
I have just three things to teach: simplicity, patience, compassion. These three are your greatest treasures.
The leader of genius must have the ability to make different opponents appear as if they belonged to one category.
Honesty is the first chapter in the book of wisdom.
                                                                       INCEPTION
I have 16+ years of  Hands-on IT experience working on IBM Cloud, AWS & Azure. In addition, I have worked on other Cloud Platforms. I have worked on the latest technologies Blockchain, Watson, Data Science, AI, IoT.  Experience working on Middleware Technologies – WAS, Weblogic, Tomcat, Jboss, Apache, IIS. Achieved Badges from IBM on Blockchain, Watson, Data Science, Education Foundation Service, Design Thinking. Started my career as System Admin. Donned the role Technical Project Manager, Transition Manager, Due Diligence Manager, SaaS Operation Manager, Technical Consultant, Senior Specialist and Client Technical Specialist
I have the flair to work on new technologies and share my knowledge and experience.
Happy Learning !!!!!!!
Social Networking   
www.linkedin.com/in/sunil-bhai
https://www.instagram.com/sunilbhaikc/
https://www.linkedin.com/in/sunil-cloud/
https://www.facebook.com/sunilbabu.kondapalli
https://twitter.com/sunilkbhai
https://stackoverflow.com/users/9641421/sunil
Legends To Admire
Mother Teresa needs no introduction. She is an inspirational personality who poured the unconditional love for the poor. The Noble Prize winner acclaimed globally for her incredible and heart-warming charitable services. We can call her the kindest heart in the world!
Mother Teresa's incredible services had been renowned in India as she spent several years in India. The early childhood days of this beloved personality is little known? Born in Skopje, in capital city of Republic of Macedonia, she at a very tender age had an institution and innate feeling to serve the needy people. She had feeling that she wanted herself to be called a nun. When she turned 18 years of age, she had the permission to pursue her dream and joined a group of nuns. She had training in Ireland and after a few months of training, she was permitted to visit India.
Soon after arriving at India, she started working as a teacher in Calcutta. The poverty, unhealthy and deprived lifestyle all over the city created a strong impression in her mind that she should help them. This led her to begin a new order named as 'The missionaries of Charity.' The ultimate goal of this charity is to serve the people who had nobody to look after them. Her devotion to the charitable services had a great start in Calcutta. She devoted her entire life to help and serve the needy people.
Born as a Roman Catholic, Mother Teresa always believed and preached that serving the people is the chief principle preached by Jesus Christ.
Still, she had a great passion towards India and Indian customs and practices. Although she faced a few traumas due to Hindu Muslim Violence and communal violence in Calcutta, she continued her service without any hesitation. After independence, she left the convent and joined the poor in city. She began to wear white sari with blue lines in the border, respecting the Indian tradition.
Her full-fledged services began and she was accompanied by many fellow nuns. The entire crew survived with little food and trivial income. She and her fellow nuns never hesitated to beg for funds as well for foods sometime.
Once she was invited for a grand function. On that occasion, grand feast at lunch was part of the celebration. After lunch, Mother Teresa started to collect the leftovers from the lunch plates served at the party hall. When others made fun of her, she replied them politely that 'There are many poor kids who have never tasted most of the foods served here.'
Besides being a lovable and kind hearted woman, Mother Teresa who born as a Roman Catholic and respected the traditions of India never went behind conversion of faith in religion. All the people in her homes and under her care were provided appropriate religious and traditional rites.
The small initiation of Mother Teresa was sparked by her intuition and simple thought. Her Missionaries of Charity now spread across various parts of the world as a huge, strong and undying tree with service motive to serve the homeless people. She passed away in the year 2003. Her soul remains with her.
A beautiful saying by Mother Teresa!
Love cannot remain by itself — it has no meaning. Love has to be put into action, and that action is service.
Fathers of Cloud: The Innovators That Made the Cloud of Today
Here's a quick history lesson on the cloud's family tree: 
John McCarthy: An American computer scientist and cognitive scientist, McCarthy is credited as the first to publicly suggest the idea of utility computing. Cloud computing implements the idea of utility computing, where computing is viewed as a public utility like water and electricity. This idea of a computer or information utility gained popularity in the late 1960s, but faded by the mid-1970s as it became clear that the hardware and software technology of the time were not quite there yet.
J.C.R. Licklider: The earliest ideas for a computer network intended to allow general communications among computer users were first formulated by Licklider in 1963. The Intergalactic Computer Network or Galactic Network was a computer networking concept similar to today's Internet. Licklider is revered as one of the most significant figures in computer science/technology and is even referred to as "computing's Johnny Appleseed", for planting the seeds of computing in the digital age.
John Kemeny and Thomas Kurtz: These two Dartmouth professors designed the BASIC (Beginner's All-Purpose Symbolic Instruction Code) programming language to allow students to write mainframe computer programs for the Dartmouth Time-Sharing System, the first large-scale time-sharing system. Time-sharing has many of the same underlying concepts – remote access, ease of use and shared resource – that the cloud is known for today.
Father of Artificial Intelligence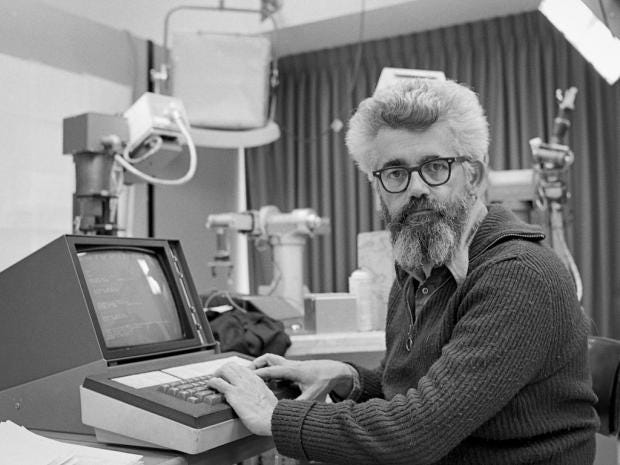 John McCarthy, an American computer scientist pioneer and inventor, was known as the father of Artificial Intelligence (AI) after playing a seminal role in defining the field devoted to the development of intelligent machines. The cognitive scientist coined the term in his 1955 proposal for the 1956 Dartmouth Conference, the first artificial intelligence conference. The objective was to explore ways to make a machine that could reason like a human, was capable of abstract thought, problem-solving and self-improvement. He believed that "every aspect of learning or any other feature of intelligence can in principle be so precisely described that a machine can be made to simulate it."
It would prove a challenge that eluded him and which still eludes computer designers today. McCarthy said the breakthrough might come in "five to 500 years" but never dismissed it. In 1958 he created the Lisp computer language, which became the standard AI programming language and continues to be used today, not only in robotics and other scientific applications but in a plethora of internet-based services, from credit-card fraud detection to airline scheduling; it also paved the way for voice recognition technology, including Siri, the personal assistant application on the latest iPhone 4s.
Described as "focused on the future," McCarthy was "always inventing, inventing, inventing," and in the 1960s he conceived the idea of computer time-sharing or networking, which allowed users to share data by linking to a central computer; it ultimately lowered the cost of using computers. This innovation was described as a significant contribution to the development of the internet, and a precursor of cloud computing – a method of storing data on a remote server accessible via the internet.
John McCarthy was born in Boston to Irish and Lithuanian immigrants in 1927. During the Depression the family moved many times, eventually arriving in Los Angeles, where his father was an organiser for a clothing workers' union and his mother was active in the women's suffrage movement.
Although hampered with illness, McCarthy was an exceptionally bright child. Self-taught in mathematics, he secured an undergraduate place at the esteemed California Institute of Technology, from where he graduated in 1948. After attending a symposium at on "Cerebral Mechanisms in Behaviour", his interest was ignited and so began his quest to develop machines that could think like people.
In 1951, he received his PhD in mathematics from Princeton. Via Dartmouth and MIT, he became a full professor at Stanford in 1962, where he remained until his retirement.
While at Dartmouth, McCarthy organised the ground-breaking con-ference on artificial intelligence. There, he met Marvin Minsky, who became one of the leading theorists in the field. McCarthy won a fellowship to MIT and Minsky, who was at Harvard, joined him. In 1959, they co-founded the MIT Artificial Intelligence Laboratory. However, their views began to diverge and McCarthy returned to Stanford. He quickly founded Stanford's AI Laboratory, known as SAIL, which became MIT's rival. He served as its director from 1965-1980.
During the 1960s and '70s, the Stanford lab played a pivotal role in creating the systems that mimic many human skills, including vision, listening, reasoning and movement. He sometimes showcased inventions and invited the Homebrew Computer Club, a Silicon Valley hobbyist group, to meet at the Stanford labs. The group included two of Apple's founder members, Steve Jobs and Steven Wozniak. In the 1970s, McCarthy presented a paper on buying and selling via computer, foreseeing e-commerce.
Although McCarthy was notoriously brusque, at MIT he was affectionately referred to as "Uncle John" andwas kind and generous with his time. He retired from Stanford in 1994,but continued to write and lecture,most recently on the feasibility of interstellar travel.
John McCarthy, computer scientist: born Boston, Massachusetts 4 September 1927; married firstly Martha White (marriage dissolved, two daughters), secondly Vera Watson (died 1978), thirdly Carolyn Talcott (one son); died Stanford, California 24 October 2011.